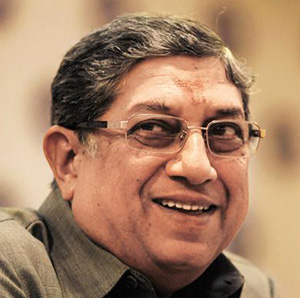 The India Cements Ltd is one of the oldest family owned and professionally managed business houses ably supported by a team of professional managers, technocrats and a dedicated workforce. The company is headed by Mr. N Srinivasan, Vice Chairman and Managing Director, who has ably steered the company through mergers and acquisitions, green field and brown field expansions.
Mr. N. Srinivasan has more than four decades of experience in the industry. He did his B.Sc. (Tech) from Madras University and Post Graduation in Chemical Engineering from Illinois Institute of Technology, USA. Under his dynamic leadership, The India Cements Ltd has emerged as the largest cement company in the South. It has seen a five-fold jump in turnover from Rs. 1033 crores in 2002-03 to Rs. 4700 crores in 2012-13.
Over the last two decades, the spectacular growth and development of the company can be directly traced to Mr. Srinivasan's dynamic leadership, intuitive knowledge of the market and vision.
Mr. N. Srinivasan has headed various industry bodies and chambers of commerce like Cement Manufacturers' Association, Madras Chamber of Commerce and Industry and All India organisation of Employers. He was the chairman of Development Council for Cement industry and an active member of the Prime Minister's High Profile Council of Trade and Industry.
At present, he is a member of the Executive Committee of Federation of Indian Chambers of Commerce and Industry ( FICCI) and also a Special Invitee to the General Committee of the Madras Chamber of Commerce and Industry ( MCCI).
Mr. N. Srinivasan was the Sheriff of Madras for two terms during the period 1989 and 1991. He has been an ardent advocate of the cause of education.
Mr. N. Srinivasan, keeping the sporting tradition of India Cements in mind, has been supporting various sports bodies, associations providing all kinds of assistance and infrastructure support. He has been unanimously re-elected as the President of Tamil Nadu Cricket Association (TNCA) for the 14th consecutive year.
Mr. N. Srinivasan was unanimously elected as the first Chairman of the revamped International Cricket Council (ICC) at a meeting held in February 2014. He was formally appointed as Chairman of ICC at the conclusion of the world body's annual conference in Melbourne on June 26, 2014.
Mr. N. Srinivasan, an avid golfer, was the Captain of the Kodaikanal Golf Club during 1995-97. Currently, he is the President of the Tamil Nadu Golf Federation.
Mr. N. Srinivasan is currently the Chairman of M M Forgings Ltd.
During 2009, a Lifetime Achievement Award was conferred on Mr. Srinivasan by TIECON and during 2011 a Degree of Doctor of Literature (Honoris Causa) was conferred on him by the Tamil Nadu Physical Education & Sports University, Chennai.